Activities on board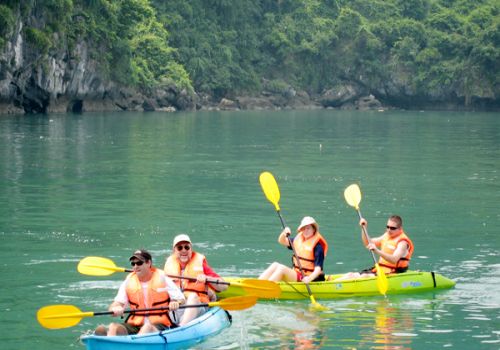 Kayaking in Halong Bay, Lan Ha Bay
Kayaking in Halong Bay is the best way to discover the majestic beauty of Halong Bay, Lan Ha Bay and admire its nature. It is a kind of paddling to move across water and is generally assumed to be very safe in these calm waters of Halong Bay, however there is still some areas and warning that you should avoid and listen to the tour guide. Paddle through the islets, visiting the hidden caves, lagoons, unspoiled beaches and meeting with friendly local fishermen.

Life jacket is a must for this activity when cruising Halong Bay.




You can need to prepare suitable clothes:

T-shirt and short, swimming suit in summer; warm clothes in the winter; wet shoes, hat, sunglasses… bring water, sun cream, dry bag storing camera, insect repellent…

For the children should be follow the tour guide and their parents.

Sit still in the kayak, do not move in front of or behind.

Children under 5 years old is suggest not using kayak.

Adjust the speed of the whole group if any of the members is out of sight.

Carefully follow the tour guide's instructions when kayaking

The tour guide will help you use paddle and guide you to the safe area.

Check with your tour guide the weather, tide and wind strength to have the best and safest route
 Tai Chi Activity
Tai Chi is an internal martial art of traditional Chinese culture that is valuable in promoting health, developing combat and self-defense skills, improving concentration and longevity. This ancient art uses a series of movements performed in a slow, focused manner and accompanied by deep breathing to reduce the stress of today's busy lifestyles.
Tai Chi   Emphasizes complete relaxation, and is essentially a form of meditation, or what has been called "meditation in motion", but it might well be called "medication in motion." This gentle form of exercise can prevent or ease many ills of aging and promote the health of mind, body and soul through its soft, controlled movements.
It is said that practicing Tai Chi in a quite time and tranquil place with open fresh air in the deep concentration and inner peace air is a great factor to help induce the body into a balanced and meditative state.
The morning Tai Chi class is recommended as one of our Halong Bay cruises tour's highlights. Joining Tai Chi class on the sundeck in the early morning of the 2nd and/or 3rd day of the tour, you will have chance to enjoy the Bay's outstanding scenic beauty of limestone islets rising from emerald waters. This activity will take your mind completely away from stress.
Our experienced Tai Chi master will instruct you how to use the conscious mind to guide the movements and let it lead the body, as you breathe in the fresh air and watch the sun rise behind jungle clad peaks. Because Tai chi is low impact and puts minimal stress on muscles and joints, so it may be easily adapted for anyone, even if you're an older adult who otherwise may not exercise or people confined to wheelchairs or recovering from surgery.
 Cooking Class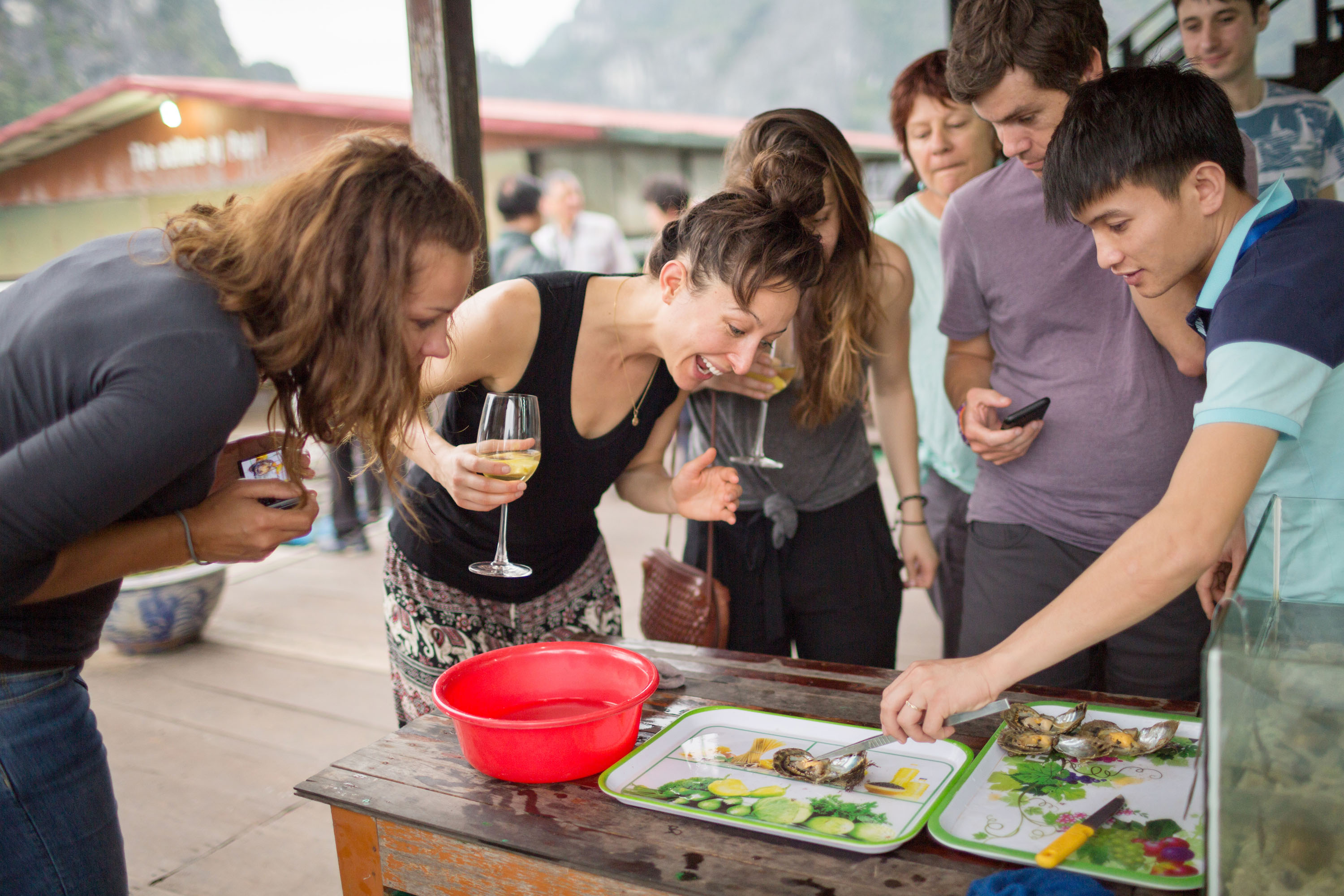 Cruising with us, you can join cooking class guided directly by Chef on Rosa Cruise. You have chance to learn to cook fresh and fragrant Vietnamese like a pro by practicing Vietnamese traditional dishes such as spring roll or famous cuisine of Vietnam.
Vietnam is considered as one famous country for its cuisine in the world, with fresh ingredients and imaginative flavors, and one of the highlights of any trip to Vietnam is the food. Even if you do not like cooking, a cooking class is just a fun and interesting way to learn about the local ingredients and how to make some of the popular dishes.
Squid Fishing
Our cruises are trying to create the interesting activities and night squids fishing is the most interesting activity among Rosa Cruise activities and wonderful pleasure of the night journey on Halong Bay. Tourists are provided with a fishing rod and rackets with a piece of fishing line tied to it with a huge lure and no bait.
Tourists must be excited to clearly see light-drunken shoals of squids lazily hovering around; and, step by step each squid is enticed and picked up, remaining totally fresh and striving convulsively. Especially, during the squid season, it can be common to see large shoals of squids surrounding the cruiser and each tourist may catch an average of 30 squids in one night. Here are squid fishing techniques:
Fish at night
Fish on calm, flat days
Select a location where a strong light shines into the water
Best water depth is 4-12m (7m is ideal)
Use quality jigs and Keep them moving at all times
Set the hook when you feel the slightest pull on your line
Swimming on Pearl Farm Area
Halong Bay, a World Heritage Site is said to be one of the best place to swim in Vietnam with thousands of limestone islands and beaches. The bay was blessed with calm tides, clean, and green water. It would be even much more enjoyable if you experience wild nature of Halong Bay by swimming far away from the beach, maybe diving from Rosa Cruise, because the water there is much more transparent.
To swim safely and avoid hidden dangers, following some tips is strongly advised:
Obey the instructions and surf conditions before swimming. Remember to warm up properly.
Never swim alone, always swim in a group of at least 3-5 people
Don't overestimate your swimming ability. Researchers say swimming ability is severely decreased in cold water, so try not to swim too early in the morning or too late in the afternoon. The average temperature of Halong Sea is around 19-25 Celsius degree, in which the area near the shore (shallow area) is recorded approximately equal to the environment temperature.
Judge your own swimming ability to participate in suitable beach activities.
Never swim into shallow water, or water of unknown depth in case you don't have enough time to get away from it.  Luckily, this seldom happens in Halong.
If caught in rip currents, relax and swim toward the shore at a 45-degree angle until you are free of the current. If the rip currents are strong, swim parallel with the shoreline in the same direction as the littoral current and then swim diagonally toward the shore. If you are not able to swim out of the currents, call or wave for help.